OMC!
Pipo would be wishing he was a naughty kitty...well, maybe...
My naughty chewing habits have earned me a DDP honor, MOL!
Pipo just has to sit there and wonder what he needs to do to be recognized fur being a goody four paws...poor brofur of mine...
Well, meowmy didn't have to be at her work, but she spent a lot of the day going on errands...doing chores, and other non-kitty stuff.
She went visiting a lot of other furry pages too, and now I have to get the leftover time...ahhh, that is the price I have to pay fur my chewing time, MOL!
Thanks so much fur the comments, prezzies, pictures, support and MOL's about this trouble I am in.
Tundra sent this nice picture to mark the event: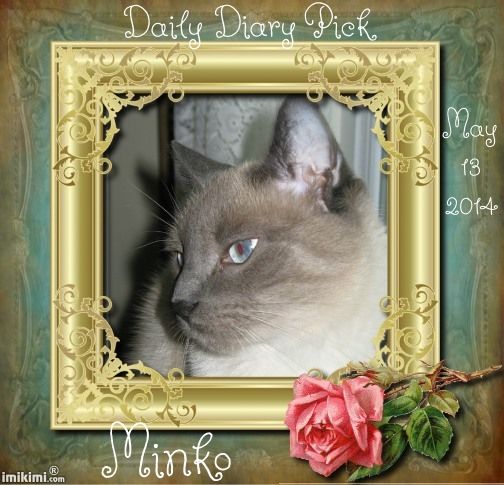 DDP Picture From Tundra & Gang - Thank Mew!
Tabatha from Kewlest Catster Kitties sent this picture:
DDP Picture From Tabatha @ Kewlest Catster Kitties - Thank Mew!
Pawppy says I keep eying the power supply to his Mac-book, its also an expensive dedicated one. He thinks he should get some peppered tape to cover the temptations...meowmy thinks we should just hide our cords better...duh...
I shall try to post my thank-mews really soon!
Off to spy out the land of 'cordster' here in my den...
~~~~~~~~~~
Pipo here:
All I get fur being a good kitty is the taking away of my sunpuddles and cold winds outside...and rain, rain, rain...hey, I am a kitty, not a duck!
There are lots of things to watch outside though...no bumble bees, though on account of all the cool weather and rain, but birdies and more birdies...(sorry tabbies)...they appear to have a nest in the eaves of our neighbors den! Hope their kitty doesn't find them...I have seen said kitty on their roof, OMC.