Some of you like us are Catster 'refugees'. There have been a lot of so called fleas over there, but the diligent workers have been fixing them. We are glad we are not techies, MOL!
Well, meowmy as our catretary wrote a diary entry about those fixes...and voila we were a Daily Diary Pick today. (aka DDP).
Well a good Catster furend and her furmily made this picture badge fur us, so we thought you would all enjoy seeing us when we were a lot younger. Um...its so old the temporary fencing is still in place, that was replaced in 2007...and if you look behind Minko you can still see some of the gym set we had fur the unfurs...
This is what we dictated to the catretary to put in our Catster Diary today:
Wow!
We are a DDP today!
We almost missed it too, because the catretary was going to say we couldn't get on here today...but she relented. It was a good thing we reminded her that since Catster is working so much better...well there are still some fleas about...that we really needed to check on things...and voila! DDP!
Hooray!
We want to thank Tundra and her talented crew fur making us this picture/badge as a memento of today's 'honor'.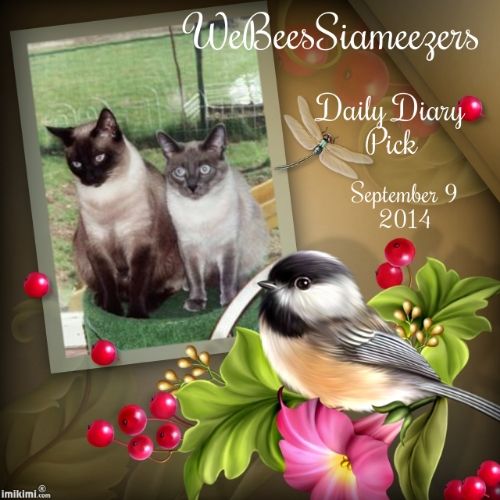 Our DDP Badge from Tundra and her furmily. Sheesh we were so young here!
We got lots of big hugs from our pals, and a blue bird singing to us, and a ribbon, too. Thank mew all so furry much!
We hope all of our Catster pals feel well, and you are all invited to visit us in our blog, and also feel free to make comments. We try to get the catretary to answer all of the comments that come...eventually, MOL! Here is a link for you to copy/ paste:
http://webeessiamese.blogspot.com/
Ya'll have a great rest of the week!
Happy 'Catstering' too!
MIAOW!!
And Happy Blogging to all of our blogging pals!!