Happy Valentine's Day to all!
Happy Gotcha Day to us!! MOL!
We are Valentine's kitties imagine that! We think it means we are loved beyond measure fur sure cause we were both 'gotted' on the same day...but from diffurent parts of the city.
We got to do a lot of cuddles and snuggles with the peeps today, it was a day off fur meowmy and pawppy too...and since the weather was not too nice outside they stayed home! Hooray. Well, they did go out fur a brief while to have their own dinner date, but they came home befur dark:))
This morning they did have to go outside to clean up yet another dump of snow, and the wind was ferociously whipping up drifts as they tried to make progress...clean up a section, start the next one; look back and groan because the furst section was already half filled in, sigh...not so much from snowfall, but from the wind making the fluffy snow on the ground to be moved alll over the place, even making whiteouts in our own driveway. Wow!
We sure hope any feral creatures can find food and shelter in these harsh conditions.
Dog-guy was at a
B
logville Heart to Heart dance all day. While there were a lot of kitties there, we didn't mind staying home in our warm quiet den, MOL! Maybe dog-guy will bring a doggy bag home fur us to sample some of the noms! He went as a bachelor-pup, but we think he likely just wanted an excuse to check out all the gal-pups he could, MOL!
A Sweet Gotcha Day memento from Tundra (from Catster)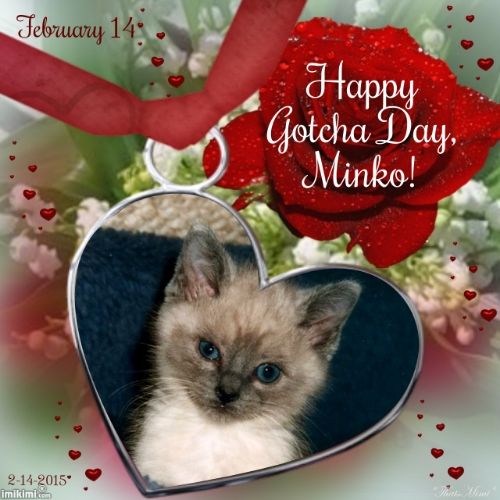 Thanks Tundra and your gang fur this wonderfur memento!
We hope all of you are having a most romantic and lovely Valentine's Day!
MIAOW!