And our meowmy was too busy to help us mew anything to you about it...oh well, we'll do it toady, MOL!
Yesterday our Unfurbro-the-elder got to be a quarter century of age, wow that makes being 25 sound really ancient. MOL! We didn't get to see him though, but meowmy says so far he doesn't look a day older...the pawrents went out to greet him and fete him with purrsents and wine and a dinner, too. They had a yummy meal together, but no kitty/doggy bag came home with them to share the plunder or yumminess...
And believe it or not, meowmy and pawppy didn't even take any pictures of the birthday boy, let alone the noms. Sheesh.
And it was also an impawrtant day in other ways.
Befur Unfurbro-the-elder was born our peeps had Groucho. His birthday was Oct 2!! So Unfurbro-the-elder sure picked a good day to arrive! MOL!!
Manytoes from Catster sent him a birthday card that she helped her catretary to make: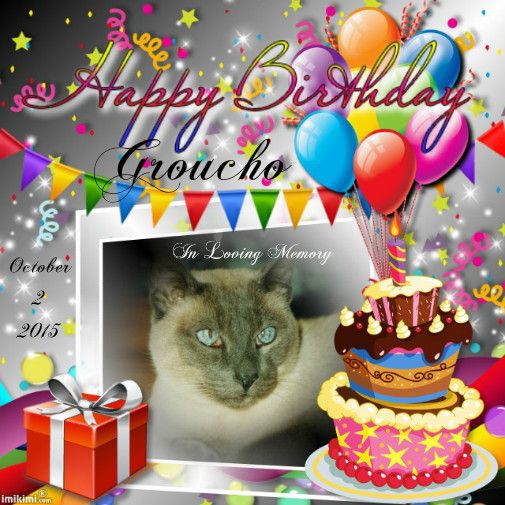 After our Angel Simba left the earth to be an angel, (Angel Groucho had a brofur who though much younger sadly preceeded him to the RB at the age of seven.), meowmy was looking to get another meezer to be a furend fur the now lonely Groucho. She discovered Suki. And drove herself into the wilds of our county (getting lost, it was befur the days of GPS, MOL!), to Gotcha her...and the lady said her birthday was Oct 2!! Imagine that!
So of course this little Suki had to come to our furmily too!
She sadly left to join Simba at the RB when she was 11. She had a seizure disorder, kidney issues and other troubles due to getting older.
But we had a happier day of remembering her along with Groucho yesterday...
Manytoes also commissioned her catretary to make her a card: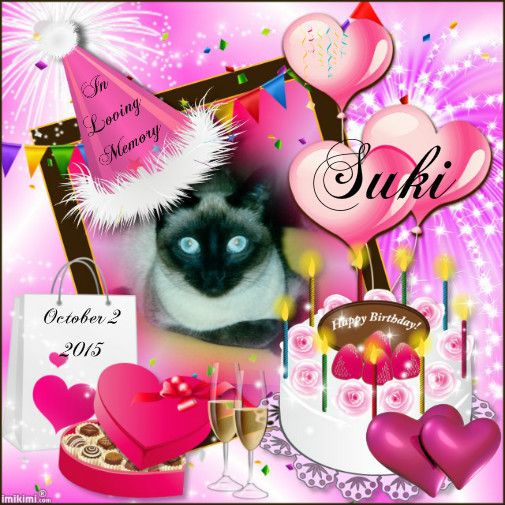 Thanks Manytoes!
See you all hopefully on Selfie Sunday! (Meowmy is working this weekend...)