Yuppers, I too had a birthday, so now I have 'caught up' with Pipo, MOL!
We are not twins, but we are only a few days apart...born in diffurent parts of our city...and then later we were gotted on the same day, so I guess we are sort of twins form diffurent mothers, OMC!!
About a year ago, meowmy wasn't even sure I would still be here, I was so furry sick and fading away...I was diagnosed with IBD, and now I am on all kinds of meds and spawsial noms...so I have gained back some weight and I eat purr-purr-ly again...but...I only eat when meowmy feeds me with a spoon...shucks, I just do not have appetite, despite all the medicines. But meowmy loves me, I know; cause she does this three times a day. Sometimes I might eat one or two bites of my noms, sometimes I snatch a kibble from Pipo's bowl, but not nearly enough to sustain me...sigh...
I do not throw up nearly as much as before, I was doing that one or more times a day, now maybe only once a week or so. Sometimes when I do eat those kibbles, they just come right back up. YUCK!
Meowmy says she really doesn't mind feeding me, but she does have to make time for that, which can get hard on her working days...or if she has a lot of errands to do. The worst was when she had to go out of town, I had to go to a boarding spa, and she had to teach them what to do, MOL!! Pipo came along to snoopervise...Ha-ha!
So now I am 11, I am getting to be an old kitty...but the way I do silly things I still act kittenish! I love to chew on the cords like the USB to the confuser, earbud wires and even the power cord to the laptop. Between my spawsial noms, medicines and wire replacements, pawppy says I am his millionaire kitty, MOL!!
I don't know why I have to chew those wires, but they are so appealing...
I still wrestle with Pipo, pounce on my mousies and love to lounge in sunpuddles. And Catnip...don't get me started about catnip!! MOL! And making bread is a good way to massage the peeps here. Or in the air! My purr engine motorizes the bread making exercises:)
I got a new mousie to chase; of course it has a not mousie aroma of catnip, tee-hee!
Manytoes from Catster made me this furry nice memento of this day:

Thanks Manytoes!
And the Birthday/Gotcha Day Club form Catster sent me this one: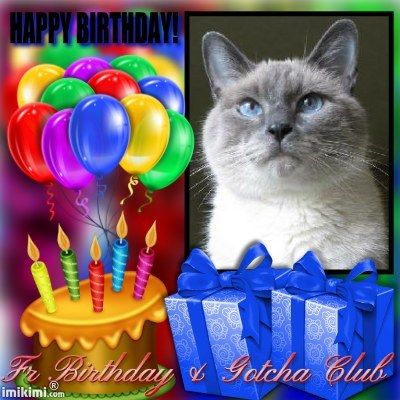 Thanks Birthday and Gotcha Day Club!
Meowmy also made me the one at the top of this posting. Brr, that is what our weather is like today...
It was really snowy here, along with a lot of sleet, ice pellets and rain. A big wintry mess! I am glad I am an inside kitty fur sure!
And I am happy to be eleven years young!
MIAOW!!
Meowmy suggested that I should link this to the Sunday selfies cause they are still 'open'...so OK, then, both Pipo & I will have selfie entries, MOL! (Cause its too long to wait till Sunday next, and also it will be a whole new year...OMC!)
Happy Early New Year to all!