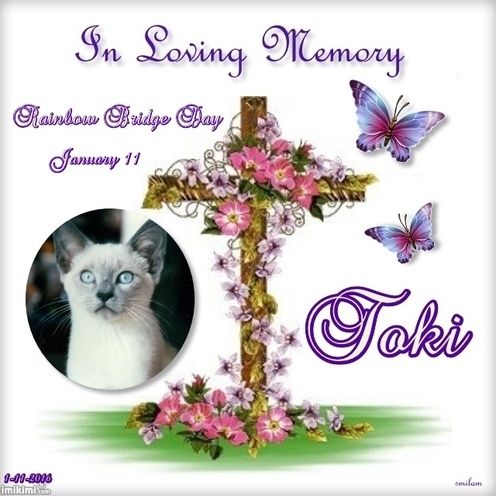 Thanks Rory
Jan 11th is the day that our furbling Angel Toki graduated to the realm of angel kitties. He was such a character, meowmy still thinks of him a lot and misses him. He was a one kitty inspection committee, a fetch kitty, and he loved evfurryone. He groomed pawppy's furs on his head, and meowmy's too got inspected after she had been to the hairdresser, MOL! He even greeted strangers!
He loved the dog-guy from the moment he came into our den, and realized that that teeny critter was warm...so he climbed right into his nest...and was often seen on top of the dog guy, MOL! Like a purrsonal heating pad:)
Its so good to have purrcious memories of our fur babies, to cherish forever after they have to leave us....its is hard to say good bye, but the memories do not go away, nope they are there to take out and enjoy any time!
Rory from Catster made meowmy a nice memento, the picture of Toki is from when he was quite young.
Toki was a lover of food...he got to be over 20 pounds, far too large for a meezer...sigh...it was the cause of his eventual demise at the tender age of seven. He got his name from when pawppy furst set eyes on him...oh my he said look Tom Kitten! So that was shortened to Toki,taking the first two letters of each of the other names. MOL! It suited him:)
Here are some other pictures of Toki...they are scanned images so not the bes quality...meowmy did not have a digital camera during the 'Toki Era'!
With the puppy known as dog-guy...aka MJF
I see something...and boy was I getting fat...
When I was still a wee kitten
In a silly mood!
MIAOW!!